OneWay's News

2010-11-10

We have puppies avaliable born 2 oct -10

More info on the puppypage

2009-11-24
This year I haven't showed any collies myself,
2009-02-17

This year it's 25 years ago my first smoothlitter was born...

And to get the knife in the back from the Swedish Collieclub (SCK) is just to much for me I haven't done ANYTHING good for the smooth collie in their opinion??? :(

But another breeder here in Sweden who have my dogs behind her breeding and now are linebreeding to my dogs,
they recommend to the Swedish Kennelclub for their highest price who a few breeders in Sweden gets when they have done something good for the breed and had successfull breeding...

I'm not jealous, I just think it so strange that our Collieclub recommend someone who have MY breeding behind in most of the litters.
And this breeder isn't ashamed neither, she think's I just want to get credit for her fantastic breeding, ooops... me?
She is the one who have used MY breeding...

Maybe I'm to stupid to understand that...

So to ALL of you around the world, thanks for ALL your support over these 25 years and to ALL the judges who highly recommended my dogs & my breeding!

Up to date 302 smooth where born here, who got 81 Ch titles.
More than 450 CC's & 100 CACIB, 450 BOB/BOS only in Sweden.
Lp 1, LP 2, Eujv-91, Sw-92,-94,-96,-98, -99, -00, & -05, Nordw-95, -99 & -06, Nordjunw- 03 & -05, Nv-91 &-93 & KBHV-05,& Bundessieger-02, 2 x EstW-06, Balticw-

BOB at Cruft's 2002 & Res.CC -06
But this isn't good enough, sorry... so all these titles, CC, BOB and everything else, isn't worth anything!


2008-12 14

Muskot (OneWay's Piff) moved to Angelo Guerci, in Italy a months ago, and today they went to their first Int show together with great result!!

CC, Cacib & BOB kvalified for the IntCh, Congratulations Angelo!!!
----
Stockholm Int show was last weekend, judged by Thomas Rohlin, DK.
Mixed results...
Klara (OneWay's Ring Of Fire) was 2:a best bitch and got res.cacib, third was Maya (S & DKuCh, Korad OneWay's Good Charlotte) and number 4 with CC OneWay's Cassandras daughter Kari Dahl's Nadja Natira.
Second best male was Dash (S & Nuch, Korad OneWay's Top Speed) and Lennon (Such OneWay's Johnny Be Good) third, beaten by a young grandson to Errol...
I nearly forgot Pokémon... , he only got a HP in the veteranclass, hmmm... ;) earlier the same judge thought he was fantastic, so this was a dissapointment.
Our breedinggroup got HP, but we didn't stay for the groupfinal.

Bosse (Nikoli's Show Me Party) our lovely chihuahuamale.
Was also shown and got CC and second best male, nearly 40 males entered :) now he "only" needs one CC for the Ch-title...

At last we got some snow here... the dogs love it, and me to, I was so tired of muddy dogs.

2008-10-28

Lately we had some good days...

New Championtitles:)
Our OneWay's Yamaha passed the mentaltest and became Swedish Champion (SuCh), her litterbrother OneWay's Suzuki did that to and got the title Korad & SuCh.
Their mother OneWay's Mercedes finally got her IntCh-title confiremed from FCI.

Korad SuCh OneWay's Top Speed got a CC i Norway and is now NorwegianCh.

Now in october OneWay's Vito passed the mentaltest with 300 points.

Last weekend it was time for mentaltest again and Amsterdjunw-06 OneWay's Good Charlotte passed with 402 points and is now SuCh, DanishCh & got the title Korad.
OneWay's Johnny Be Good also passed with 322 points and got the SuCh-title.
OneWay's Sprinter passed with 387 points, so it was a really GREAT day for us & BIG congratulations to these dogs owners!!!
_____________________________________________________

Our biggest loss this year was our lovely Errol :(


1995.03.29 ~ 2008.07.07


MultiCh OneWay's Errol Flynn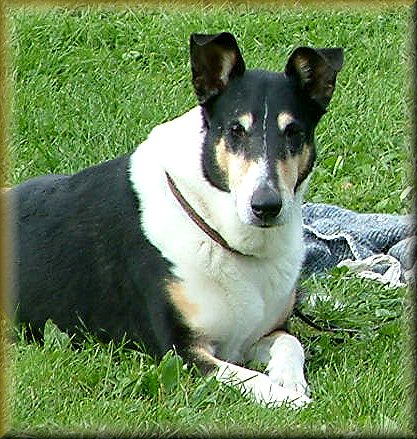 2007-03-27

We got smoothpuppies 21 march, by Muskot & Courtney, you can find more info here

Our first litter with chihuahuas where born in march, their page is here

New pictures of OneWay's Holly Valance "Nicky" here

2006-07-07

- CONGRATULATION Melanie with OneWay's Back Street Girl "Sveva" to the French Champion title - well done!!
We have been to some shows but no updates here as usual... our juniorbitch OneWay's Ring Of Fire "Klara" has in 3 shows 3 CC's & 3 BOS!!!

I also showed our Ch OneWay's Skalle Per at a Collieclubshow, first time for him in veteranclass:), he did well - BOB & BIS-1 veteran!

We have 2 lovely smooth brothers - check their page & we still have a promising sable male puppy avaliable, he and his littermates where all Cea-free, new pictures of him are coming soon...

2006-04-25

MultiCh OneWay's Miraculix "Mika" BIS at the French Collie Clubs Mainshow, 230 roughs & 10 smooths entered - CONGRATULATION, Gudrun!!

Today we took some new pictures of Felix & Winnie
The puppies have now their own pages look at the puppy page

We where at a Show in Västerås this weekend, 10 smooths entered

BOB,BIG-R & Best Veteran was MultiCh OneWay's Errol Flynn and BOS & CC was his 10 months old daughter OneWay's Good Charlotte
2 best male with CC OneWay's Top Speed who also got the title KORAD, 2 best bitch OneWay's Yamaha, 3 best bitch OneWay's Mercedes & 4 best bitch OneWay's Pippi Långstrump.
2006-04-20

The last week was really hectic... after a 3200 km drive, I came back yesterday with a lovely 8 months old sable bitch Jack Mack's Key To Kudos "Winnie", you can se more of her here
We also had a 4 years old tricolour male with us home, Felix you can se him here

Before that we where at an Int Show in Stockholm, 18 smooths entered

BOB & Best Veteran was MultiCh OneWay's Errol Flynn and BOS & CC was our young OneWay's Ring Of Fire "Klara", at her first official show!
2006-04-06

Just discovered it was a VERY long time since I updated this page :( the time always fly away...

This year I have been only to one show so far, we went to Cruft's in GB in march with our boys, and our old man MultiCh OneWay's Errol Flynn was Best Veteran & got Res.CC there:) his son Ch OneWay's Skalle Per was 4:th in the open class and Ch OneWay's Rock n'Roll was 6:th.

We have sable puppies born april 26:th, 2 sable boys & 2 sable girls, pictures are coming soon...
One other thing here is that I fell in love with another breed, so we have right now a spoiled little longcoated chihuahuagirl, and we hope she get company soon from a lovely smooth boy...