Fairlines Billy The Kid
Ch Glennfields Garrison
Ch Talcott Fugitive
Ch Treewood Golden Delight
Astrellita Abba
Ch Astrellita The Silversmith
Ch Dancerwood Bewitched Of Astrellita
Korad,S,FinCh One Way Ticket
Dancerwood Court Jester
Ch Treewood Black King
Ch Dancerwood Freelance
Dormacs Angel Face
Cronys Copper Crown
Sunsweet Goodnesgirl
Litter 1 Born 1984 05 23
OneWay's Shamrock
OneWay's Tom Collins
OneWay's Ginger Ale
OneWay's Gin Fizz "
OneWay's Bloody Mary
Nw-91&93,Sw-92,Ch OneWay's Bloody Mary "Astrid"
Was the most successful bitch from this litter.
She prodused high quality progency, mother of our 3, 5, 7 & 9 litter.
Mother of six Champions, four passed the Swedish temperament test Korad, one passed the Finnish mentaltest.
Astrid was BOB at our Swedish Winner show-87 & 92, and also BOB at the Norwegian Winner show -91&-93.
Her "biggest" show success was at the Swedish Collieclubs Jubilee Show -93.
When she 9 years old won BOB & Best In Show beating all the roughs!!!
We lost Astrid 13 years old... I still miss her, in my eyes she was the most PERFECT bitch you could find.
She was so SPECIAL !!
OneWay's Ginger Ale "Alma" 3 CC's & 1 CACIB
Alma was mated back to her father, one smooth puppy was born-86 Picaroon's Lady Starlight "Jessie"
Her daughter got her Ch-title and passed the Swedish mentaltest test Korad.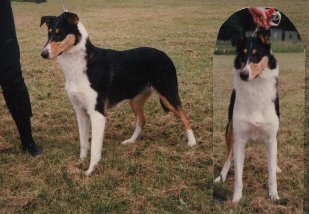 OneWay's Tom Collins "Collin"
Collin was only shown a few times, he got CC-quality, unfortunately he died 18 months old because of an accident.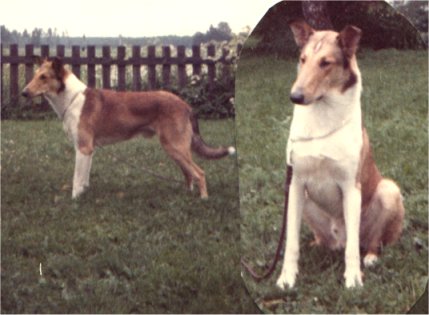 OneWay's Gin Fizz "Ginny"
Honour Price at show, she competed once in the first tracking class with approved result.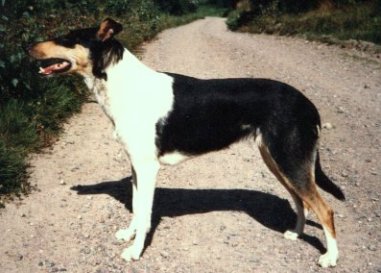 OneWay's Shamrock "Shamy"
Honour Price at show, competed in obedience class 1 with first-price.