OneWay's Look Sharp
Cornkils Chagall
Fairlines Billy The Kid
Cornelia
OneWay's Moonlight Shadow
Foxearth Silver Fog
Korad,Ch One Way Ticket
Ch,Nw-91&93,Sw-92
OneWay's Bloody Mary
Fairlines Billy The Kid
Ch Glennfields Garrison
Astrellita Abba
Korad,Ch One Way Ticket
Dancerwood Court Jester
Dormacs Angel Face
Litter 9 Born 1992 04 23
OneWay's Smooth Criminal
OneWay's Fatal Attraction
OneWay's Fatal Attraction"Esther"
10 CC's & was BOB & group-placed.
Mother of our 21 litter.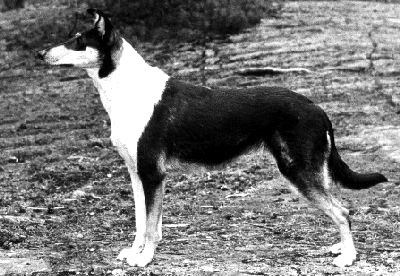 Ch OneWay's Smooth Criminal "Billy"
Sold as a pet, his owner got the "showbug" when he 4 months old was BOB & BIS-2!
So he got the Swedish, Norwegian & IntCh-title & Korad.
Also competed in obedience class 3 and got the obedience titles LP 1 & 2 and competed in tracking.